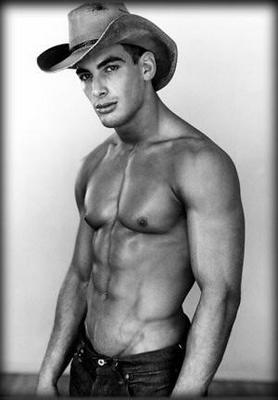 Twenty five year old Brian Bianchini spent most of his life in the small town out of San Bruno, just outside of San Francisco. Born on July 16, 1978 his parents are Marcia and Leo Bianchini, Brian has three (3) sisters, and one (1) brother.
Brian went to Mills High School in Millbrae, one of California's highest ranking high schools. After graduating he attended Skyline College, located in his hometown of San Bruno. While in college Bianchini continued to hone his wrestling skills from high school, and went on to win several championships.
Bianchini first got into the modeling scene when he was introduced to the famed photographer Bruce Weber, who immediately wanted to hire him for the Spring 1999 Abercrombie and Fitch (major U.S. young adult's clothing retailer) campaign.
In the world of highly paid male fashion models, Bianchini clearly bucked the skinny and/or unhealthy look of the traditional male model. Yet, his career was flourishing, despite all the modeling agencies who told him that he would never make it because he was too athletic and muscular in size.
He then took off for New York City, which served to be quite the eye opening experience for the small town Bianchini. Soon he was making all the normal rounds to clients and the photographers who loved him, but was soon told by his own agency, that he needed to quit working out and to lose about 20 pounds.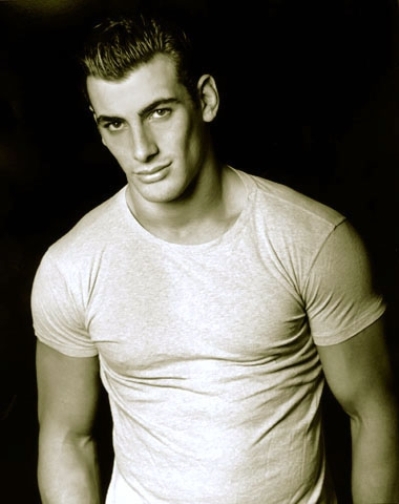 Bianchini then decided to take a job with the Tom of Finland Clothing store in Chelsea, one of the design studios who gave him one of his modeling gigs in the city. The clothing store was located right in the heart of the gay gym boy ghetto, and Brian Bianchini very quickly became the dish of the town. Which I know first hand, as my Fire Island roommate (at that time) was Tim Ranney, former Head of Public Relations for the Tom of Finland Foundation and one of the owners of the T of F Clothing.
Back then everyone seemed to want to know the same thing that they still want to know, "Is he Gay or is Straight?" This is a conversation that I personally feel has been grossly over done, and I also believe this subject likely goes right to the heart of Brian's own death.
Brian Bianchini in life dared to do what few men can do; he learned to peacefully coexist within the heterosexual and homosexual communities. He did not stand in judgment of strangers, friends or family; yet they would all seemingly stand in continual judgment of him. He was either "too hot to be straight" or he was "too sports-oriented to be Gay," or he was "too comfortable with Gay men to be straight" or he was "too family oriented to be Gay"…. as if any of these comments make any sense at all? In a world that Brian learned to accept for all its amazing diversities, it could not give him that same respect in return. People would continually trying to label, classify or pigeon hole him into either one group or the other.
Perhaps the most enlighten comments about Brian Bianchini's own mental state and the enormous pressure that he felt all around him, can be found within Brian's own words.** From his 1999 profile for the All American Guys competition, "My [Brian's] aspirations: "To do the best I can at whatever challenges come my way and to have a happy and healthy family relationship. Family is very important to me."
What I find to be the saddest part of Brian Bianchini's death, is the fact that all of his friends and family knew that he was suffering and that he was having suicidal thoughts. Brian Bianchini is dead today and I know that his death could have and should have been prevented.
Last Time I Spoke To Brian
The last time that I spoke to Brian was about year ago now. He was working at the front door of a party that I was attending, here in San Francisco. We wound up having a thirty (30) minute conversation about the recent outbreak of the Iraqi war. We both were in agreement about the need to support our troops in Iraq, regardless of our personal opinions about the war itself!
Aaron E. Baldwin
Note: The writer is not making ANY statements about Brian Bianchini's sexuality. Instead I am making a point about all of the pressure and pain that the issue of his sexuality caused him in life.